Plant of the Month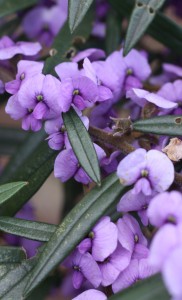 Purple Pea Bush – Hovea acutifolia
Native to parts of Queensland and New South Wales, this forest fringe plant produces masses of purple pea-shaped flowers from later winter to early spring – right now!
It is fast growing and generally short lived.
Dimensions: 2m high x 2m wide
This plant loves a site with dappled light and a good garden soil that is well mulched.