Botanical: Allamanda laevis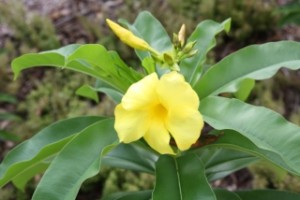 Common: Shrubby Allamanda
Family: Apocynaceae
Native to Brazil, this is one of the many shrub species of Allamanda. It is a very popular garden and landscape plant in Brazil and one of the showier species in the genus, which deserves to be more widely grown in Australia.
Allamanda laevis is initially upright in growth and eventually forms a shrub, 2.0-3.5m high by 2-3m wide.
Smooth and glossy, 22-27cm long lance-shaped mid-green glossy leaves are located predominately at the apex of the branch. Leaves are arranged in a whorl along the stem.
Flowers are bright yellow and can measure 5-8cm wide. They are produced terminally at the end of the branch during the warmer months of the year.