Radermachera sp. 'Kunming' ( 'Summerscent' misapplied by nursery industry) is as yet still an un-named species from Yunnan province in South China. This cultivar was identified in South East Asia, reportedly in Thailand. It has become popular in tropical gardens in South East Asia and has also been introduced to Australia, promoted in the nursery trade as Summerscent – this is however more of a marketing name rather than a true botanical name.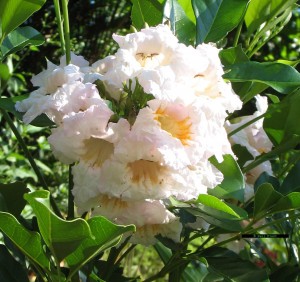 Family: Bignoniaceae
Other common names: Dwarf Tree Jasmine, Peep Thong
This plant has a dense, shrubby habit, typically attaining 2-3m height and spread. The glossy deep green foliage is pinnate in structure, similar to the Radermachera 'China Doll'.
The large heads of flowers, which are light pink with a gold throat, fade to off-white as they age. They are pleasantly fragrant (reputedly even "fruity" according to the nose of some beholders). Flowers occur mostly in the summer months but can spot flower from spring through to autumn in the tropics.
It was recently introduced into Australia but has been slow to be embraced by gardeners, which is a shame. With great foliage, a long flowering period, scented blooms, handles full sun to part shade and the adaptability of this plant to a wide range of warm climates (tropical, subtropical and warm temperate) this plant should be on the WANT LIST for most gardeners. It is well suited to pruning as a hedge and screening plant, plus looks good as a pot plant specimen.
written by Paul Plant, Editor subTropical Gardening magazine.
updated: 27 October 2012